Todd Stocke, the Vice President & Editorial Director of Sourcebooks was kind enough to take a picture of the deal and tweet it!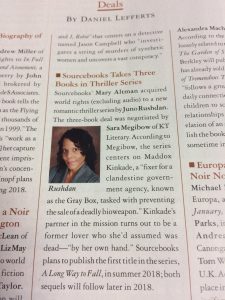 Sourcebooks' Mary Altman acquired world rights (excluding audio) to a new romantic thriller series by Juno Rushdan. The three-book deal was negotiated by Sara Megibow of KT Literary. According to Megibow, the series centers on Maddox Kinkade, a "fixer for a clandestine government agency, known as the Gray Box, tasked with preventing the sale of a deadly bioweapon." Kinkade's partner in the mission turns out to be a former lover who she'd assumed was dead—"by her own hand." Sourcebooks plans to publish the first title in the series, A Long Way to Fall, in summer 2018; both sequels will follow later in 2018.
Sold!!! My three-book deal for a romantic thriller series with Sourcebooks was announced in Publisher's weekly. My rock star agent, Sara Megibow of KT Literary, is the ultimate champion any author would be fortunate to have in their corner. I can't wait to work with my editor, Mary Altman, whose enthusiasm for the series blew me away.
The first book in the series is called A LONG WAY TO FALL. The title may be changed later, but Mary gave the thumbs up to use it in the announcement.
So, what comes next?
Deadlines. Lots of deadlines to submit each book of the series, revise, resubmit, then review the proof copy.
I'll keep you in the loop on the process and share exciting details along the way.
Thank you to Sara and Mary for turning my dream of the Gray Box Series into a reality to share with readers!