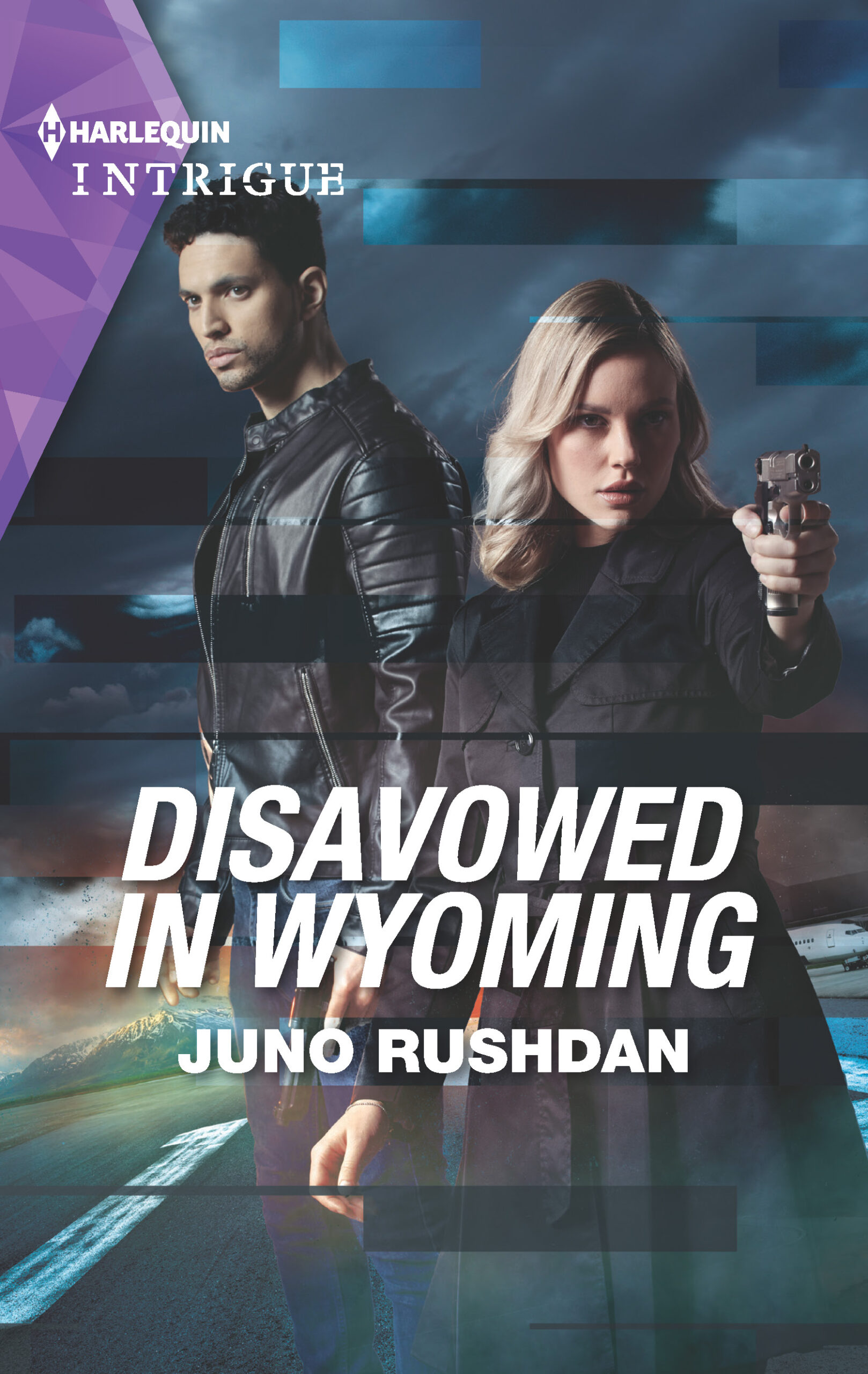 Fugitive Heroes: Topaz Unit #3
December 28, 2021

Disavowed in Wyoming
He'll put his own life on any line, if it means keeping her away from the danger stalking him.
Fleeing from a CIA kill squad, former operative Dean Delgado is hiding out back in Wyoming, where the terrain—and the people—are all too familiar. Working undercover, he befriends veterinarian Kate Sawyer—the woman he was once forced to leave behind. But when an emergency call brings Kate under fire, Dean must blow his cover to save her. Now, despite the risks to his own life, protecting Kate is the only mission that matters.
Excerpt
Chapter One
The phone rang, jolting Kate Sawyer awake. She didn't remember falling asleep but must've drifted off after the noise from the bar beneath her apartment had finally died down. She peered at the alarm clock. The red lights blinked 2:23 a.m. Nobody called at this hour with good news.
Bolting upright, she reached out and turned on the light on her nightstand. Her work cell was ringing. Not her personal phone. There was an emergency with a sick or injured animal for someone to call in the middle of the night.
"Loving Paws Mobile Veterinary Services," Kate said, rubbing the sleep from her eyes.
Anything urgent she referred to the local animal hospital. Alpine was the closest and offered 24-7 critical care.
"Help me," a woman said. Her voice was low and tight, thick with emotion.
Kate pushed back the covers and put her bare feet on the carpet. "Ma'am, do you have a wounded pet? If so, Alpine Animal Hospital would be better suited to handle the situation."
Not only did they have an on-call vet available, but also a technician to assist and any equipment that she might not have at her disposal. She operated out of a twenty-six-foot La Boit truck that consisted of an exam table, a small surgery suite for minor procedures, digital radiology, a hand-held ultrasound and dental equipment. Routine well checks and running basic diagnostics for about fifty patients a month were her bread and butter.
"Please," the woman said in a strained way that unsettled Kate's stomach.
Something horrible must have happened. "What's wrong, ma'am? Can you tell what the problem is?" Was it a poisoning? An intestinal obstruction? Animals ingested things they shouldn't all the time, from chocolate to Legos. If she had more information, she could try to provide some immediate assistance over the phone.
"You have to come now." The woman sucked in a deep, shuddering breath that tugged at Kate's heart.
"Come where?"
"Downstairs," the woman said. "I'm here. Hurry. Please."
The call disconnected.
Kate lurched from the bed and rushed to the window overlooking the private parking area for owners of the street-level businesses and residents of the second-floor apartments. She shoved back the blackout curtain. Lights on the exterior of the building and streetlamps across the road ensured the lot was always well lit. So illuminated it made it difficult to sleep at night. She had a clear line of sight to her mobile pet truck, but she didn't see anyone.
Beside her truck was the Jeep Renegade that belonged to the bartender, Davis Johnson, whom everyone called DJ. Farther down were two other sedans she recognized as her neighbors'.
Scurrying around her bedroom, Kate quickly got dressed, slipped on her sneakers and threw on her lab coat. She grabbed her keys and rushed out the door of her corner apartment.
A cold February breeze slapped her in the face, making her reconsider whether to go back and grab her coat. But there was a hurt animal who needed her right this minute. A poor dog or cat was suffering, could even be bleeding out. No time to waste going back for her jacket.
Wyoming's winters were harsh and bitterly cold, but soon enough she'd take shelter from the elements inside her truck. At least it wasn't snowing.
She raced down the exterior staircase, her feet pounding against the metal steps. As she turned onto the walkway, she stopped short.
In the shadows, a woman was leaning against the brick wall of the bar, bent over…holding her pregnant belly. Wearing a thin dress, a zippered hoodie pulled up over her head, tattered boots and coatless, she must've been freezing. She peered up at Kate. Her face was gaunt, as if she hadn't had a decent meal in a while, and her skin was smudged with grime. She had large blue eyes and pale skin. Kate guessed her to be about nineteen, twenty at the most.
"Dr. Sawyer?" the young woman asked. "You're Kate, right?"
"Yes." Kate had never seen this woman before, but she seemed to know her somehow. If she did, then she should know that Kate was a veterinarian, not an obstetrician. "Are you in labor?"
The woman nodded and sucked in a sharp breath on a contraction as she tightened her frail arms around her midsection. She was so thin that it made her pregnant belly look the size of a watermelon.
Kate hurried to her, wrapping an arm around her shoulder and lifting her from the wall. "Come on. We've got to get you to the hospital."
"No." The young woman recoiled. "No hospitals."
Uneasiness crept between Kate's shoulder blades. "It looks like you're pretty close to having this baby." She got the girl moving and guided her along the walkway toward the truck that she used professionally as well as personally to save on the expense of a second vehicle. "What's your name?"
"Cheryl." Her teeth chattered through bluish lips. She clutched Kate's hand, her bony fingers digging into Kate's. The young woman's skin was ice-cold.
"Listen to me, Cheryl, I have to take you to the emergency room. That's the best place to deliver this baby."
The sudden look of terror on her face punched Kate in the gut. "You can't." Cheryl shook her head. "They'll find me there." She glanced around. "They're looking for me now. We have to get inside."
"Who will find you? Who is looking for you?"
Clenching her teeth, the woman grunted through another contraction. Squeezing Kate's hand, she stopped walking and hunched over in pain. This time her grunt bloomed into a full-blown scream.
The contractions were coming fast, way too fast. Kate estimated less than two minutes apart. Was there even time to get her to the ER?
"I'll call an ambulance." Kate fished her cell phone from her lab coat pocket.
"No hospital," the woman growled, but her eyes, glazed with fear, reminded Kate of an abused puppy. "Help me or my baby is going to die."
Die?
Who was going to find her at the hospital? Why would anyone want to hurt an innocent child?
All Kate knew for certain was that Cheryl was terrified of something or someone. She had to help this young woman and make sure her baby was delivered safely.
The back door of the bar opened. DJ stuck his head outside and spotted them. "I thought I heard a scream. Is everything okay?"
Kate exhaled in relief, pleased to see him. "No, it's not. Can you give me a hand?"
Without uttering another question, DJ rushed outside to assist them. Kate couldn't think of a better person to help her with this situation—other than an obstetrician.
The older man was well into his late seventies, but his calm disposition—no matter what, even if a bar fight broke out—always put her at ease. Despite the permanent worry lines etched across his forehead and dusting of gray at his temples, he never seemed to fret about anything.
DJ slung one of Cheryl's arms over his shoulders and helped her walk.
"She won't go to a hospital," Kate said, getting closer to her truck.
A gush of fluid splashed to the pavement beneath Cheryl as she groaned, doubling over.
"Her water just broke." Kate tried to quicken their step, but the expectant mother was in so much pain it was difficult for her to walk. "This baby is coming right now."
DJ scooped Cheryl up in his arms in a startling display of strength that belied his elderly frame. He was thick around the middle and didn't appear athletic, but he carried Cheryl to the mobile pet clinic at a pace that had Kate running to keep up.
She fumbled with her keys, looking for the right one. A brutal gust of wind whipped her long blond hair around her face, obstructing her vision. She raked her hair back, angled the keys toward the light and found it.
The harsh hum of a heavy car engine making its way down the road snagged her attention. She stole a glance over her shoulder. Headlights crept along the side street, drawing closer. Whoever was in the vehicle would spot them if they didn't hurry.
She shoved the key into the slot and unlocked it. Swinging the door out, she ushered DJ inside.
He carried the pregnant woman up the three steps as though she weighed nothing.
Hurrying in behind them, Kate closed the door and locked it. She peered through the blinds, scanning the area.
A muscle car, one of those super coupes she'd seen around town, rolled down the street, passing the parking lot, and drove out of sight.
That had been close. She didn't think they'd been seen.
Hoping it was safe, Kate switched on the lights. It was going to be hard enough delivering a baby—she didn't need to complicate the situation by trying to do it in the dark.
"What's going on, Kate?" DJ asked. His voice was deep and scratchy, sounding as weathered as he looked.
"I'm not sure." Her gaze dropped to Cheryl, who was panting through another contraction. "She says someone is looking for her."
Kate led the way down the narrow aisle to the exam table at the back.
The flat-top metal surface was only forty-eight inches long and not designed for a human, but it was sterile. They'd have to make it work.
She pulled out some supplies from the cabinets. First, she covered the metal table with a blanket for comfort and put a sterile surgical drape on top. "Set her down here."
DJ gently eased Cheryl from his arms onto the table. She pushed her hood back, revealing dishwater-blond hair that was matted to her forehead from perspiration.
Helping the woman into a seated position, Kate put a folded blanket behind her to prop her up. She had never delivered a baby. Assisting with the birth of a calf out at the Sullivan ranch when the local bovine vet had been unavailable was as close as she'd ever come.
Kate had been in the delivery room in Omaha, Nebraska, the day her niece had been born last year. Although her brother-in-law had been at her sister Claire's side, Kate had read The Birth Partner cover to cover to prepare.
That was her, a type-A overachiever in everything. So she avoided doing anything impromptu. It only increased the chances of failure.
A flutter of doubt set her nerves on edge. The thought of what rested on her shoulders now—the lives of Cheryl and her soon-to-be-born child—gave her a moment of pause.
"Hey." DJ's voice drew her gaze to his. "You're the sharpest doctor I know. If anyone can do this on the fly, it's you," he said, as though he were a mind reader. "I'll be right here with you every step of the way."
One of the many things she appreciated about DJ was that he always knew the right thing to say at just the right moment to make things better. The perfect bartender. Poured her drinks strong. Listened to her troubles without judgment or trying to fix her problems with unsolicited advice. Knew how to give solid encouragement.
DJ took her hands in his, which were covered in latex gloves as always, due to his obsessive-compulsive disorder regarding germs. "You've got this." His brown eyes searched hers, reflecting a familiar warmth that imbued her with confidence. Then he lifted a hand, cupping her cheek in a manner that felt more flirty than fatherly.
Once again, she found herself thinking that if there hadn't been a forty-year age gap between them, and he wasn't such a germophobe, she would've asked him out on a date months ago. Probably shortly after he'd moved to town.
"Okay?" he said.
"I've got this." Kate nodded, trying to convince herself. She leaped into action, tugging on a pair of sterile gloves, and grabbed some green operating towels.
"Tell me how to help," DJ said.
"Talk to her. Keep her calm," Kate said. "Cheryl, can you put your legs up for me? I need to examine you. See how far dilated you are." A single finger inside the cervix would be one centimeter. Once the cervix was about the size of a cantaloupe or a large bagel, it would be time for her to push.
Kate pulled her long dress back to the top of the young woman's knees and covered her with another surgical drape to give her some privacy.
Extensive bruises covered her legs in various shades that ranged from red-purple to yellowish brown. Some marks looked as if they'd been made by a cord. Cheryl had been beaten.
Did she have an abusive husband or boyfriend after her?
But she'd said they. Maybe his family was helping him look for her, but why would they want to hurt an infant?
"I've got to get the baby out." Cheryl grimaced. "Now! I've got it get out. It burns! Hurts so much."
DJ took her hand. "You see that sign on the wall?" He pointed to the one that read, Free Belly Rub With Exams. Sorry, Pets Only.
"Focus on the sign," DJ said, "and breathe like this. Hee, hee, hoo." He demonstrated, blowing two short breaths followed by a long one as he made the noises.
"Where did you learn that?" Kate asked.
He shrugged. "Saw it in a movie."
It might have been a tip from a movie, but it worked. Cheryl calmed, her gaze focused on the sign, and her breathing regulated.
DJ had the magic touch.
If only Kate could find an age-appropriate guy like him.
She peered under the surgical drape, prepared to check her cervix, but there was no need. "The baby's head is crowning." That explained Cheryl's urgent feeling to get the baby out. They didn't call crowning the ring of fire for nothing. "We're in the home stretch." In minutes, Cheryl would be holding her newborn. "The next time you feel the need to push, I want you to take a deep breath and slowly release it while you bear down."
Cheryl nodded. Seconds later, she was doing as Kate had instructed. The young woman let loose a guttural cry as the baby's head slipped out.
"A couple more pushes," Kate said, eager to usher this new life into the world. "Wait for the next contraction."
A loud pop sliced through the air as the lock on the truck door gave way. The door was flung open and banged against the side of the vehicle.
Kate flinched at the sound, her heart jumping into her throat.
Two men burst inside the mobile clinic. Both were big and burly, radiating menace. The first guy had a tattoo of a snake on his neck and a crowbar clenched in his fist.
DJ let go of Cheryl's hand. Turning toward them, he stood defensively, blocking the aisle.
"Give us the girl and that baby, and we'll let you two live," the man with the tattoo said.
Fear flooded Kate. The taste of old pennies suddenly filled her mouth. Fragments of panicked thoughts bombarded her. But her mind snagged on one—the only thing standing in the way of those two thugs was a senior citizen.
There was nowhere for them to run. The only door was blocked. Cheryl couldn't move even if there was some way to escape. And that baby was being delivered right now. What were they going to do?
Violence pulsed off those men. They obviously had no qualms about threatening women and a baby. That made them capable of anything. She sensed it in her bones.
But handing over Cheryl or the child was an unthinkable option. Only over her dead body would those men get their hands on either of them.
Kate shoved aside the panic. If she surrendered to it, the feeling would consume her. She had to keep a clear head.
Cheryl groaned at the onset of the next contraction and bore down again with another gut-wrenching scream, pushing the baby's shoulder's out.
"We gave you fair warning," the guy with the tattoo said, stalking forward, and dread welled in Kate's chest.
The taller man cracked his knuckles, following his buddy deeper into the truck.
Horrible scenarios raced through her mind, making her light-headed, but she had to focus on helping Cheryl. The young woman needed her, and this baby was coming, one way or another.
The guy with tattoo scowled. "Now we're going to make it painful, old man." He swung the crowbar.
A whoosh prickled her ears as the metal slashed through the air.
"DJ!" Kate said, not wanting him to get hurt.
But the elderly man had ducked, avoiding the blow. Then he popped up lightning fast and launched a fist, punching the bigger guy in the windpipe.
The crowbar clattered to the floor. The man gasped. Falling to his knees, he clutched his throat.
DJ jumped over the man who was in a heap in the aisle and kicked the other one backward.
Cheryl pushed again, and Kate caught the baby in a towel. The umbilical cord was wrapped around its little neck. But thankfully it was loose. Moving quickly, she gently eased the cord over the baby's head.
The sounds of a vicious struggle resonated in the small space. Kate only caught glimpses of the scuffle.
DJ blocked an incoming punch and threw a leg up into the man's groin. The brawny guy doubled over with an oomph. DJ grabbed him by his jacket and bulldozed him backward, down the steps and out of the truck.
Kate dried the baby off with a towel. The little one started crying. The sweet sound was reassuring. "Those are some nice, healthy lungs." She handed the baby to Cheryl. "It's a boy. A beautiful boy."
Cheryl clutched the baby close to her chest. "He's so small."
The baby did look premature. Probably caused by malnutrition. But he had a strong pulse and good muscle tone and color.
"He's healthy." Kate tied off the umbilical cord, clamping it.
"She was right," Cheryl said, staring down at the baby. "She told me that you'd help me."
"She? Who?" Kate asked. "Who told you to come to me?"
Metal scraped against the floor as the guy grabbed the crowbar and climbed to his feet. "Give me that baby," he said, rubbing his throat and drawing closer.
Cheryl held the newborn tighter. "Please, don't!"
The young woman's scream, the sound of her fear, jump-started Kate's adrenaline.
She whirled and scoured the shelves for something she could use as a weapon. Desperate to grab anything, her fingers curled around an orthopedic bone saw. She threw the surgical tool at his head.
But he swatted the saw to the floor with the crowbar.
Blind panic threatened to overwhelm her. Why hadn't she taken her purse? Inside it she always carried bear spray.
"Please, Smitty," Cheryl begged. "Let us go. I won't say anything."
Reaching behind her, Kate grabbed the first thing she touched. A stethoscope. She closed her fist around the chest piece and swung, whipping the binaural device through the air, trying to keep him back.
He snatched hold of the tubing and wrenched the stethoscope from her hand, tossing it behind him.
Her first instinct was to protect Cheryl and the baby. She threw herself in front of the mother and child, standing with her arms stretched out to shield them from any blows. To stop this monster from taking them by any means necessary. Punch. Kick. Bite. Anything.
Smitty raised the crowbar, and Kate swallowed the wave of terror that almost choked her.
Movement behind Smitty had the big guy shifting around toward it. DJ leaped up, wrapping the tubing of the stethoscope around his neck and hauled him out of striking distance. The old bartender had crept back onto the truck without making a sound. Silent as a ghost.
The two men wrestled, locked in a tense struggle.
She had to do something to help DJ before that thug maneuvered to hit the old man with the crowbar. A hard enough blow would break his bones.
Frantic, she looked around and spotted a stainless-steel instrument tray. She snatched it from the counter. With the metal clenched in both hands, she charged the man.
Desperation and anger made her strong and wild. She slammed the tray down on Smitty's arm. His head. His shoulder. Anything she could strike.
He knocked her off him, throwing her against the counter, but the crowbar slipped from his thick hand. Someone kicked it, sending the metal bar sliding to the rear of the truck.
She scrambled down the aisle and scooped up the crowbar from the floor. By the time she managed to stand, the man had pulled something from his pocket.
A switchblade glinted in the light.
Before she could run to the front of the truck, before she could swing the crowbar, before she could scream in warning, Smitty plunged the knife into DJ's stomach.
"No!" Kate cried out.
DJ flinched. But he didn't stop fighting, didn't even slow down.
Smitty kept stabbing him. Each strike drove a spear through Kate's own heart.
That animal was killing him.
Smitty swung with his other hand to defend himself from the older man's relentless blows. His open hand struck DJ's face, ripping off skin. The big guy stumbled back, pulling out the knife.
There was no blood. Not on the switchblade. Not on DJ's abdomen. No blood anywhere.
For a second, she doubted her eyes.
Smitty stared down at the skin in his hand. At the face that he was holding. "What the hell?"
Kate's gaze flew to DJ. Instead of a wrinkled white man with gray hair, she stared at a Latino face with smooth, deep olive skin, framed by inky curls. But that shock wasn't what made her heart seize.
She knew that handsome face all too well.
Senior citizen DJ, the perfect bartender, was Dean Delgado. Someone she'd thought she'd never see again.
Smitty threw the wrinkled face down and ran out of the truck.
DJ—Dean—looked at her. "Crowbar," he said, holding out his hand. His voice crackled, wavering between the old man's and the real one.
Now she could tell that it was digitized.
"Throw me the crowbar, Kate!"
She snapped her mouth closed once she realized she was gaping and tossed the crowbar to him.
He snatched the piece of metal from the air and took off after Smitty.
There was a roaring in her head that sounded like a giant wave was about to break on top of her, smashing her to pieces. In a way, one already had seconds ago.
She stood there, trembling, her hands shaking, her mind whirling from the violence and shock. But it was the gut punch of seeing him that truly left her reeling. She felt as though she were floating. Untethered.
Questions piled up in her head, an avalanche of queries. About Cheryl. About who'd told the pregnant woman that Kate would help. About those men.
About Dean Delgado.
Her first love. Her first heartbreak. Her first everything.
A pang sliced through her chest, and she set her teeth against it. He was alive. Back in Laramie. A bittersweet surprise.
Far more bitter than sweet.
Why was he here after all these years? What was with the disguise?
"Don't…" Cheryl said, pulling Kate from her spiraling thoughts.
She turned and staggered to the new mother's side like she'd just been in a car accident.
Cheryl caught hold of Kate's lab coat and tugged on the pocket. "Don't let them…get the baby," she whispered. A tear surfaced, rolling down Cheryl's cheek before her eyes fluttered closed. Her arms went limp, and her legs dropped, dangling from the sides of the table.
Oh, no. Something was wrong with her.
Kate ensured the baby was in a stable position in the crook of his mother's arm and in no danger of rolling off the table. Then she went to examine Cheryl.
Blood poured from her, running over the edge of the metal surface, dripping to the floor.
Cheryl was hemorrhaging. A number of things could've caused it. Placenta problems. A tear in the cervix or a ruptured blood vessel in the uterus.
I can't lose you now. Stay with me.
If Kate couldn't get the bleeding to stop, the young woman was going to die.