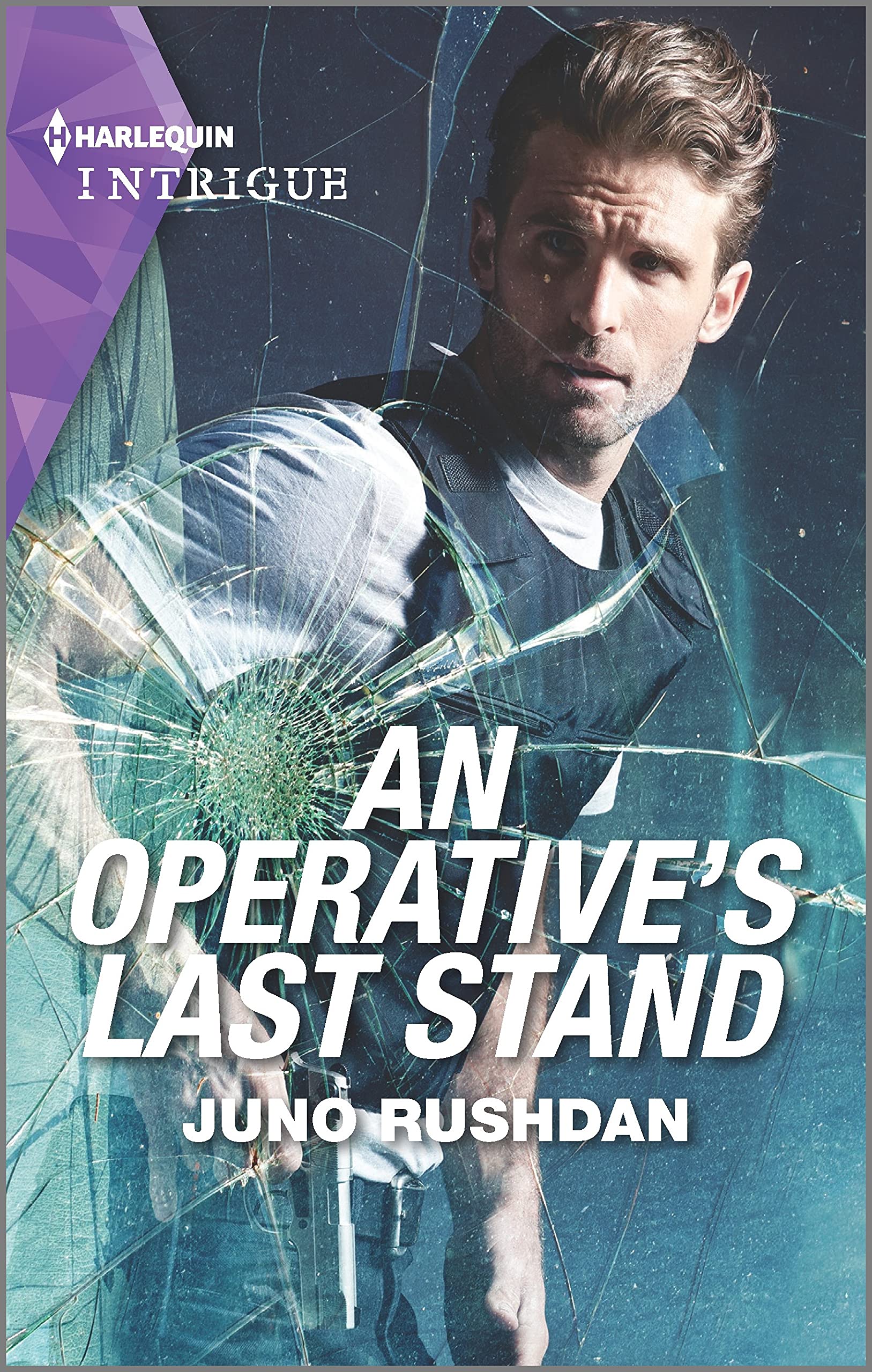 Fugitive Heroes: Topaz Unit #4
January 25, 2022

An Operative's Last Stand
A kill squad is closing in…
Now this team leader must risk everything for answers
Barely escaping CIA mercenaries, ex-agent Hunter Wright is after the person he thinks targeted his ops team, Topaz, for treason. Deputy director Kelly Russell is still the one woman he can't resist, but she believes Hunter went rogue. Now she's his only shot at getting the answers they need. Can they trust each other enough to save Topaz—and each other?
Excerpt
Prologue
Eighteen months ago
Hunter Wright strolled down the seventh-floor hallway of the Waterfront Hotel alongside Kelly Russell, aka the ice queen. She was his team handler and supervisor, for all intents and purposes. For five years, they'd worked closely, executing some of the CIA's toughest covert assignments to eliminate high-value targets abroad, with him leading his Topaz unit in the field and her managing their intel as well as logistics from Langley.
This was the first time they'd ever been one on one. Alone. Outside the Washington, DC, metropolitan area.
A possibility he'd imagined many times, though, if it were up to him, they wouldn't be freezing their keisters off in Boston. This TDY—temporary duty—attending an international industrial technology conference had been a last-minute thing. They had been sent undercover to spy on attendees after the two operatives who had been scheduled to be there got food poisoning from a buffet restaurant, a total fluke.
Kelly had been the first to volunteer. Naturally, there was no way on God's green earth Hunter was going to miss the weeklong opportunity to work as partners with her while indulging in long dinners and playing tourist.
Now their time had come to an end. This was the last night of the conference. Tomorrow morning they had to catch a nine o'clock flight out of Logan International.
She stopped at the door to her room and slipped her heels off with a sigh, as though she'd been looking forward to that moment all day. His room was right across the hall, but he lingered beside her, taking her in. Even with her hair tucked in a twist, the conservative pantsuit that did nothing to flatter her lithe body and the barest touch of makeup that let her freckles shine, none of it downplayed her stunning beauty.
After a sixteen-hour day, which had started with them both in the gym at 5:00 a.m., she looked worn-out and a little tipsy from one too many drinks at the bar. Not that Kelly was at a disadvantage. She could hold her liquor, stayed sharp and aware, never letting her guard down.
He knew he should just keep his mouth shut—to speak his mind would be playing with fire. Still, he leaned on the door frame and said, "Hey, think you might be interested in a last nightcap, in my room—or yours—instead of the bar?"
She looked up at him and smiled, her eyes a deep cobalt blue, dark fire-red hair, her skin pale and creamy, those angular features, her full pink mouth, the effortless sensuality. It all hit him like a gut punch. God, she was breathtaking.
"A drink? No." Amusement rang in her voice, and something inside him sank.
"All right," he said nonchalantly. He forced a smile, swallowing his disappointment, and stepped across the hall. Of course. Some things weren't meant to be. This was for the best anyway. Everything came at a price. To be with Kelly Russell might cost him his soul. "I'll let you get some sleep. It's been a long week, and we've got an early flight."
"Hunter," she said, and he glanced back at her. "Who said anything about sleeping? I am interested in the euphemism behind your offer of a nightcap." Another smile, this time flirty, sexy. Full of promise. "And to answer the second part to your question, my room."
Every muscle in his body tightened with need, making it difficult for him to think of anything else, least of all playing it cool.
"We need to establish the rules of engagement first," she said.
All business. Always in control. Even now. For some inexplicable reason, it only added to her allure.
He strolled back across the hall. "I'm listening."
"This has to be a one-night-only situation. It can never happen again."
He reached out and tucked a fiery strand that had escaped her twist behind her ear. Her skin was warm and soft, with a perfect porcelain texture. "My mother always told me, never say never."
"I'm serious, Hunter." She slipped her key card in the slot, unlocked the door and opened it. "One night to assuage our mutual curiosity."
Curiosity. Chemistry. Semantics. "If we enjoy ourselves, why only one night?"
Standing on the threshold, she held the door open with it at her back. "We need to keep things professional in the office. Neither of us can afford to let whatever happens tonight cloud our judgment or impact any hard decisions we might have to make in the future."
If it ever came down to her choosing between him and national security, she didn't want emotion causing her to hesitate or think twice about that choice. She was destined for greatness. One day, she would be the director of the CIA, and she didn't want anything or anyone getting in the way of her climb up the ladder. He understood—it was the same for him. Nothing would ever cloud his judgment professionally, either. Not even one night with the incomparable Kelly Russell.
"Is that it?" He slipped into the doorway in front of her. They stood so close in the narrow space that their bodies almost touched. He was so physically aware of her that he felt as though he were standing in the middle of a magnetic field, electric current flowing between them, with the air snapping and sparks flying.
"One more thing." She took a step closer, and her chest brushed his suit. "What happens TDY, stays TDY. We'll never discuss it."
He didn't need to talk about it to replay it in his head. "Agreed."
Grabbing his tie, she pulled him into her room and tossed her shoes.
Desire coiled and tightened in his guts. He'd never been attracted to weak, helpless women who needed protecting. There was nothing weak about Kelly.
She was as fierce and deadly as a switchblade.
The door slammed closed behind them. There was a sweet, faintly spicy scent in the air that overrode the generic flatness prevalent in hotel rooms. His blood stirred—from the proximity to her, from anticipation, from the sheer reaction to the feminine smell, universal in some ways, exclusive to her in others.
"I do have a condition of my own," he said.
As she undid his tie with a gleam in her eyes, he slipped his hands into her hair, something he'd longed to do, and plucked out the pins, throwing them one by one to the floor.
She raised a perfectly groomed eyebrow. "Which is?"
"It's more about clarifying parameters rather than a condition per se." He found the last pin in her hair, and the sophisticated twist tumbled down her back. The long, silky strands flowed in loose waves around her shoulders. "The night doesn't end until the sun is up."
Her mouth quirked in a sinfully sexy grin. "I can live with those terms."
He fisted a hand in her hair and pulled her luscious body against his, aching to taste every inch of her.
There were a hundred reasons, all of them good, why he shouldn't have Kelly in his arms, why he shouldn't want this one night with her more than he wanted his next breath, but in that instant, none of them mattered…even though the price for this night might be higher than he could possibly imagine.
*
The next morning, in the light of day, Kelly pressed her forehead to the cool bathroom door, shriveling on the inside from regrets. Great, big, screaming regrets.
Not because the night with Hunter hadn't been off-the-charts amazing. On the contrary. It had been unbelievable. Better than any fantasy.
But what had she been thinking? To be so weak as to give in to a physical urge.
A conflict of interest of this magnitude could jeopardize her career and everything she'd worked so hard to achieve.
Although she had told him they'd never speak of this—and she wouldn't with him—at the first opportunity, she was reporting this incident to human resources. She could not afford to have this come out during a counterintelligence polygraph.
That was how operatives were compromised. Blackmailed.
What would happen if the unfortunate day ever came when they were on opposing sides instead of the same team?
Sometimes the unthinkable happened, interpersonal dynamics thrown into a tailspin due to politics, ambition, greed. One thing trumped all others to her—national security.
Cracking the bathroom door open, Kelly put her stealth skills to good use. She slipped into the main room, fully dressed, with her packed carry-on and shoes in her hand.
Sunlight peeked through the curtains, falling on Hunter's naked body in her bed, with only his lower half covered. She watched him sleeping for a moment and memorized the sight of him like this. Smooth skin marred by scars. Every ridge and valley of ripped muscle in his chest and abdomen. Those strong arms that had held her close.
She had wanted Hunter with a blind, ferocious need, a craving she couldn't suppress no matter how hard she'd tried. And for hours she'd fed that particular hunger until they'd both been sated and too exhausted to move.
A pang cut through her, but she vowed, never again.
This was lust, nothing more. Certainly not some other four-letter word.
With a deep breath, she steeled herself.
He stirred, his head rolling to the side, blond hair mussed, his hand touching the empty space beside him. His bright blue eyes opened, his gaze finding the clock before locking on hers. A delicious smile spread across his devastatingly handsome face, and her chest tightened.
"Why are you dressed?" His voice was husky, with a gravelly rasp that caressed her senses, making her thighs tingle. "We've got three hours before our flight. Come here, Red."
That was the first time he'd called her the nickname, and it had her belly turning to mush.
With a lazy grin on his face, he reached out for her.
She wanted nothing more than to take his hand and climb back into bed with him. To stay there all day, for another night at least. To forget the outside world existed.
But there was far too much at stake.
"The sun is up, Hunter. The night is over. It's time to go home." Her tone was stone-cold, her gaze unflinching, her expression serious. His smile fell. "I plan to report this indiscretion to HR." She owed it to him to give him a heads-up. "I highly recommend you do likewise. Since this is a onetime thing, I don't think I'll be pulled as your team handler."
Planting a forearm on the bed, he lifted up with a bewildered look, but she pressed on, forcing herself to stare into those crystal-blue eyes and ignore the wild flutter in her chest. "A rideshare will be here in fifteen minutes to take us to the airport." She'd ordered one in the bathroom along with changing her flight to one an hour earlier to spare them the awkwardness of sitting together. Maybe it was a coward's move, but she'd told herself it was a smart one. "If you're not in the lobby by the time it arrives, I'm leaving without you."
Turning from him without giving him a chance to respond, she wheeled her carry-on to the door and stepped into the hall. With the click of the lock behind her, something splintered in her chest, a chilling emptiness settling behind her breastbone. The sensation didn't slow her as she hurried for the elevator, afraid she might be tempted to go back into that room, crawl into bed and climb on top of him.
She was almost running down the hall…escaping. From him.
Chapter One
Present day
Never in a million years had Hunter Wright expected to find himself in this position—disavowed, falsely accused of treason, on the run. And now, taking up arms against the CIA, an organization he'd served for more than half his life, had sacrificed and bled for.
All because of the machinations of one woman.
It was the ultimate betrayal.
He wanted to be immune to the raw emotions bubbling inside him, but he wasn't. If only he knew why she had set them up. Getting an answer was a priority, but not the highest at the moment. Notwithstanding an explanation, Hunter was determined to clear his name along with the rest of his Topaz unit.
First, they had to survive the night.
Clenching his jaw so hard that his teeth ground together, he settled into a prone position in the hunting stand nestled between two palm trees with the sniper rifle in his hands. The spot was protected from thermal imaging with a multilayer combination of Mylar foil, which was impervious to infrared radiation and reflected heat, synthetic microfiber spray-painted to match the environment, and covered with a final layer of nylon camo netting that would take on the ambient temperature. He'd made the perch to blend seamlessly into the landscape.
Two others from his rogue team, Gage Graham and Dean Delgado, were concealed in a similar manner, each with a different vantage point. Ready to bring shock and awe to those coming. Mercenaries—scumbags, not loyal operatives, who had no reservations about committing atrocities—hired to do the CIA's dirty work.
Her dirty work.
But Topaz was prepared, primed for war and wouldn't go down without a fight.
Zenobia "Zee" Hanley, the fourth member, was on the mainland. She and her fiancé were conducting surveillance with their daughter in tow. Gage and Dean's significant others, both civilians, were no doubt fretting as they stayed at a safe distance from where the action was about to take place.
This was the beginning of the end. Waiting for the enemy to come and lay waste to the island that Topaz—his family—had forged into a home wasn't the hardest part for Hunter. What got to him, deep down under his skin, was thinking about the cause of this gross injustice…her.
The thought made his gut burn.
"Incoming," Gage said in his ear over comms. "Five hundred yards out."
They'd be here soon. Using inflatable boats with a quiet engine. His guess was electric power propulsion. The strike team would stop more than two hundred yards away, before they could be heard. Then they'd swim the rest of the way.
"How many?" Hunter asked.
"Three boats. Twenty-four men."
Swearing to himself, Hunter gritted his teeth. In his gut, he always knew it would be more than a baker's dozen. Still.
"Twenty-six," Dean corrected. "You missed two. They're hard to see this far out, cloaked in the shadows."
"Twenty-four, twenty-six, it's twenty too many," Gage said.
Dean grunted in agreement. "You have to hand it to her, Kell—"
"Do not speak her name," Hunter warned.
"The ice queen," Dean corrected, using the nickname for the woman who was always poised, in control and cold-blooded to the core, "made sure to send plenty of reinforcements."
That she had. "She's excellent at tying up loose ends." Determined, too.
He'd stopped thinking her name a week ago. After he'd learned she had been promoted in the wake of Topaz's infamy. Fast-tracked from team handler to deputy director of operations, no less. There was only one way in the world that could've been possible.
She'd set them up and sold them out.
"I'm sorry." Dean's voice was thick with remorse. "It's my fault they found us."
It was and it wasn't. The ice queen had spearheaded an operation targeting Dean, who had been in hiding in Wyoming. Rather than kill him, they tracked him and his girlfriend here to this island off the coast of Venezuela, unbeknownst to either. The two of them had led the CIA straight to them, where every other member of Topaz had found short-lived sanctuary.
"No time for a pity party. We've got work to do," Hunter said, needing his team to focus on the monumental task at hand. Not dwelling on mistakes that they couldn't undo. They had to fight as one with singular resolve. There wasn't room for anything else. "I need you both razor-sharp. Once those men have boots on the beach, we have to be ready to push hard and fast. Got it?"
"Roger," Dean and Gage said in unison.
The night was calm and quiet as expected at 3:00 a.m.—the perfect time to launch an assault. A chilly breeze swept over Hunter. To a small degree it was soothing, though he doubted anything would cool his rage other than making her pay for every dirty rotten deed that had caused his team to be branded traitors and marked for death.
*
Kelly Russell, the CIA deputy director of operations, stood at the head of the conference table in the vault of the Caracas station. Consular services of the US Embassy in Venezuela had been suspended for quite some time, and diplomatic personnel had been withdrawn years ago. In light of the significance of this covert operation and her need to have boots on the ground as close to the action to get it done right, she was given special dispensation to monitor it from here. She had arrived with the SAC—Special Activities Center—chief, Andrew Clark, and a small contingent of marines to open this section of the embassy and provide security.
Her boss, CIA director Wayne Price, had warned her about going to Venezuela. Obsession by its nature precludes equilibrium, he'd said to her. She was known for her steadiness, her ruthlessly cool approach to everything. Except in this.
She wouldn't have stability in her career, her life, even in her thoughts, not until this was finished and Team Topaz was eliminated.
Kelly stared at the high-definition screen that dominated the far wall, watching the live footage from the Predator drone hovering above the target location.
Operation Cujo was in full swing. A fitting name considering Topaz had once been her most envied team, idolized and lauded. She'd even made the disastrous mistake of caring about them. More for one in particular than the rest. Then they turned on the CIA, betrayed her trust and made a mockery of everything she stood for and believed in when the Topaz unit accepted millions to assassinate an Afghan official, an ally to the United States.
Now, like the pack of rabid dogs they had become, they were about to be put down permanently.
"Coffee?" Andrew asked, shoving a hot brewed cup in her face. The man had the aggressive, animalistic tenacity of the weasel he resembled. Alert, dark beady eyes, sharp features and dishwater-brown hair. Always so eager. So bold.
His wool suit was rumpled, the same one he'd worn on the long, private flight, suitable for the mid-March temperature of the northeast. Unlike hers, which was fresh and lightweight, and more appropriate for the change in climate. The journey seemed to age him, making him look fifty instead of forty. He'd skipped shaving, so he had scruffy stubble that looked coarse enough to sand wood. At least he'd run a comb through his wiry tuft of hair.
She waved him off. "No. Thanks."
After downing two espressos in her hotel room at zero dark thirty and with her adrenaline pumping full throttle, the last thing she needed was more caffeine. Besides, she'd never accept one from Andrew. It might be poisoned.
"You seem…" Andrew said, studying her. "On edge."
Of course she was. This was the most important op of both their lives.
A year ago, while Andrew had been in charge of all covert operations as the SAC chief, she'd been Topaz's handler when the agency's most revered operatives went rogue. Leaving her to take the heat, to clean up the mess and to stitch back together the tatters of her career thread by thread. The suspicion that had hung over both their heads, the interrogations they'd been subjected to—a living nightmare for months.
But she had clawed her way out of that black hole, only to rise even higher, like a phoenix from the ashes.
Everything hung in the balance with Operation Cujo.
The question churning in her head now was, why wasn't Andrew on edge? Instead of being the picture of reserved poise.
She drew in a deep breath, struggling to find the calm center that had served her so well most of her life.
"We need this to succeed," she said matter-of-factly, hiding the desperation pooling in her belly. "We can't afford to let one of them slip through our fingers. Again."
Topaz had made fools of them all since they went on the run. Constantly evading capture, managing to slip out of every trap they'd set. The only member of Topaz they'd never been able to get a bead on until now was Hunter Wright.
Her gut clenched at the thought of him, but it was that fist-tight squeeze around her heart, despite the anger simmering in her veins, that she despised.
She cursed that man's name and rued the day she slept with him.
The CIA's failure, her failure, regarding Topaz was getting ridiculous at this point. Another embarrassment was simply something she would not abide.
Those despicable traitors needed to die before sunrise.
"I never thought I'd ever have to say this to you, much less think it, but," Andrew said, leaning over and lowering his voice so that the two marines in the room couldn't overhear, "pull yourself together."
Kelly snapped her gaze to him, bristling at the proprietary tone he had used. How dare he speak to her like that?
Once he'd been her supervisor, but now he was her subordinate.
"You work for me," she said, her voice soft, but her tone full of grit. "You would do best not to forget that."
The smug look fell from his face as Andrew blanched. Catching himself, he washed emotion from his expression. "I only meant you have a reputation to uphold. You're the ice queen, after all."
She gave him a sidelong glance.
"Come on, you know what they all whisper about you. The fear you instill is part of your mystique. But if you're afraid, then it means the rest of us should be quaking in our boots," he said.
She let herself take the slightest comfort in the compliment. "I'm not afraid." She was terrified. But there was no way she'd ever let anyone see her sweat.
"Topaz has no idea we're coming, thanks to your plan to manipulate Dean Delgado," Andrew said. "We have the element of surprise, the tactical advantage, and I put together the best group of mercs. Zulu team will stop at nothing to get the job done. This op is in the bag."
It was true that Zulu was the best of the best. Most were former Special Forces commandos, but it would only be in the bag once they had four confirmed kills on Hunter, Gage, Zee and Dean. Then she would be able to sleep well at night, knowing her greatest shame and the biggest threat to national security had been neutralized.
"I hope you're right," she said. For both their sakes.
She twisted the large, bulky ring on her right hand. It had been her father's United States Military Academy class ring she'd had adjusted to fit her. Heavy men's casting and embossed with the West Point seal where the stone should have been set. Her father had made it all the way to chairman of the Joint Chiefs of Staff, principal military adviser to the president and the secretary of defense, before a heart attack claimed his life. She couldn't help but wonder if he could see her now, what he might think of her and the mistakes she'd made.
Her godmother, Judith Farren, the first female director of the NSA, had already chided her numerous times for getting too close to Topaz. To Hunter.
The phone rang, and Andrew shot her glance.
Well aware who was on the other end of the line, she gave Andrew a curt nod. "Put him through on speaker."
Andrew answered the phone as she instructed.
"Director Price, Andrew and I are both here. Do you have a visual?"
"I do," he said from his office at the Langley campus. "This is the closest we've come to eliminating Topaz in almost a year."
Eleven months, two weeks, five days. Not that she was counting.
"I dare say this op might be our best and last chance to finally put an end to this." The tension in Price's voice resonated clearly over the secure line. "Operation Cujo had better go off without a hitch or heads are going to roll."
It wasn't going to be Kelly's. She was many things, but above all, she was a survivor. They should be calling her the phoenix instead of the ice queen. She would rise again and again from the ashes, no matter how many times she got burned.
Andrew cleared his throat. "Yes, sir. Rest assured we have the situation under control. This ends now."
Don't make promises you can't keep.
Then again, the more promises he made, the easier it would be to ensure Andrew's head was the one on the chopping block in the event this went sideways.
The one thing she'd learned a long time ago was to never underestimate the enemy, and Hunter Wright was the last foe the CIA wanted to have. He was a former Delta Force operator. The CIA liked to recruit them, but Hunter was special. His contacts ran deep, his resourcefulness was never-ending and his ability to see three moves ahead made him a formidable adversary. Hunter saw angles and possibility where others saw chaos, danger and a problem not worth tackling.
She glanced at the screen.
The strike team had left the boats and was in the water swimming to the island. Almost thirty battle-hardened warriors against eight—seven, really, since one was an adolescent. They had orders to make every effort to ensure no harm came to her.
No matter what, Kelly didn't want to see the young girl end up as collateral damage. She was ruthless, but she'd never intentionally hurt a child or use one as leverage. There were some lines that should never be crossed.
Authorizing Operation Cujo had been a tough call. A painful one.
Topaz had brought this on themselves, and that innocent child, the second they decided to put their self-interests before their country and commit treason.
The strike team had the numbers and the overwhelming firepower, but Hunter would not go gentle into that good night.
He would rage, taking down as many as he could, until his last breath.
*
Hunter sighted through his scope, past the assortment of palms and other vegetation, but his vantage point didn't give him a clear visual of the sea. His line of sight covered the shoreline and up to the house. Ripples tickled the shore, all was calm, but there was no peace. "Give me an update."
"The boats have stopped," Gage said, blowing out a heavy breath. "After checking their gear, they slipped into the water."
"How far out are they?" Hunter asked.
"About three hundred yards. One guy stayed behind."
That man would keep the boats from drifting. "We have three minutes before they come ashore. Have either of you spotted the Predator?"
For a strike mission of this size to eliminate four critical targets and their known collaborators, there would be a drone deployed so the higher-ups could watch the scene unfold on the ground in real time from the safety and distance and comfort of a situation room.
"I have," Dean said. "Eyes in the sky is within visual range. I can see it pretty clearly thanks to the full moon."
It was the sight of a Predator conducting reconnaissance within the past forty-eight hours that had tipped them off that the CIA was about to make their move. A strike team of this magnitude would never be sent in without first verifying the targets' identities and confirming they were on-site.
The Predator was blind to Hunter and his men. The house was currently empty, though it wouldn't appear as such. Eight heat signatures would be detected inside.
A calm stole over him as he closed his eyes and searched his gear by touch, making sure he could put his hands on any part of it without looking, knowing the other two men would do the same thing.
"Is everything ready?" Hunter asked, opening his eyes.
"Yes," they responded at the same time.
Each man had an objective. The three of them had to be coordinated, calculated, precise in their actions.
"Set your timers," Hunter ordered. "Radio silence from here on out until I give the signal."
The radio went quiet as his men complied. This was the calm before the storm. Within minutes they would be in the thick of the action. There was no room for failure. Anything short of success would not only cost them their lives, but also jeopardize the others on the mainland, who were counting on them.
Movement in the water close to shore had him tightening his grip on the long-range rifle. He was capable of taking down targets a mile out, but tonight he needed to bide his time and draw them into the trap they'd set.
After Hunter had found the GPS tracker the CIA had planted when Dean arrived, he knew it would come to this. An incursion on the island. The only way to save his team and clear their names was to face the onslaught head-on. No more running. No more hiding. No more evasive action.
Now they were playing offense.
Twenty-five men emerged from the water, dressed in tactical dry suits, carrying assault weapons, wearing night-vision goggles. Red laser-sight beams painted the night. All those men were prepared to shed blood and ensure no one on his team survived.
Hunter caressed the trigger of his weapon, tamping down his dangerous emotions. He ached to take them out one by one, but with the first shot fired, Hunter's team would lose the upper hand. Without surprise on their side, things would get far more dangerous. They needed to keep the advantage at all costs if they were going to win this battle.