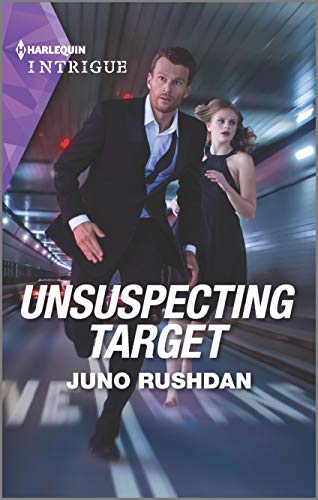 Hard Core Justice #5
May 25, 2021

Unsuspecting Target
Can they right past wrongs
when an enemy's out to steal their future?
Ten years ago, Jagger Carr saved Wendy Haas's life. Circumstances pulled them apart soon after, but when an assassin targets her at a Manhattan charity gala, Wendy has no choice but to trust Jagger, who's now deep undercover. Not even their warring feelings can stop desire from reigniting. But the vengeful cartel gunning for them could destroy any hope for a second chance.
Excerpt
Chapter One
Laughing at her escort's flirtatious comment, Wendy Haas glanced across the crowded reception hall of the gala and froze as she spotted trouble incarnate.
The bubble of amusement in her chest burst and she struggled to breathe. Staring back at her was Jagger Carr.  The one man who could derail her life, for a second time.
His dirty blond hair was shorter, the cut cleaner. Half his face was cloaked in shadows, but he looked older, more rugged and chiseled by hard times. He was broader and taller than Wendy remembered, his muscled body filling out his tux to perfection.
No doubt about it, that was Jagger.
How?  He was supposed to be locked up—a fifteen-year sentence for murder.
A murder that never would've happened if they hadn't been together. A prison term that was her fault.
He hated her as much as she hated him, but how could he have the gall to be in the same room as her, make eye contact and not bother to say a single word? Even one of contempt.
"Hey, babe, are you okay?" asked Tripp Langston, her on-and-off lover. "You look like you've seen a ghost."
If only.  A phantom couldn't do any harm.
But Jagger free and in the flesh could wreak all kinds of havoc.
Wendy made a pleasant humming sound, masking the lead weight in her gut. "I'm fine," she said as if she didn't have a care in the world and turned back to Tripp.
The photographer dressed in a simple black suit with a dark shirt circled closer. He'd been prowling about them shortly after she and Tripp had arrived. She believed he was one from Page Six. Since she hadn't been up to dealing with a sensational tabloid tonight, she hadn't gotten close enough to see his badge clearly.
"He's just going to keep stalking us until we give the paparazzo what he wants," Tripp said.
It was the least of her concerns, though inevitably true. The bloodhound wasn't going to stop.
Wendy owned an up-and-coming PR firm that worked miracles in the image consulting department. She was the go-to person if you needed to reinvent yourself, as she had done after Jagger sent her world in a tailspin.
At twenty-eight, her career was on a trajectory into the stratosphere, and her name opened doors that made socialites envious.
As for Tripp, he was on the current cover of New York Magazine, named number one on a list of the top thirty under thirty in the city.
All thanks to her company rebranding him from a barracuda in a toilet bowl to the Orca of Wall Street.
A photograph of them together would have the readers of the gossip site and tabloid talking. Still, the last thing she needed to worry about was ducking a shutterbug. Not when Jagger Carr was lurking somewhere in the room.
"Let's just get it over with." Wendy tucked her handbag under her arm and swept a hand over her hair, checking her chignon was in place.
Then she looped her arm through Tripp's, pasted on a saccharine smile, raised her champagne flute and posed for the camera.
The photographer adjusted his telephoto lens, snapped the picture and blew a kiss of thanks.
"He didn't bother to use a flash," she said, irritated at how the photo would turn out in the low lighting. What a waste.
"Let me get another for Instagram, babe." Tripp held his camera phone up, shifting it to get the best angle for both his six-foot frame and her standing at five feet six inches in heels. Wendy turned her face, giving her profile for the shot, and drained her glass of champagne as Tripp captured the moment with a bright flash. "That's a good one. I'll send it to you, so you can post it, too. This time write something that makes me sound fun and hip. Okay."
Handsome, wicked smart and wealthy, Tripp was a catch by many standards. He was also the walking definition of an egomaniac, always trying to tell her how to do her job. That was precisely why they were currently in off mode. They'd decided to go together to the
Youth Literacy Gala—one of the most anticipated nights on New York City's cultural calendar, second only to the Met Ball—but there were no amorous strings attached.
Disentangling herself from Tripp, Wendy glanced over her shoulder.
Watching her back was second nature and came with the job.
Once you identified a threat it was best to deal with the problem head-on, before it became a headline that had tongues wagging.
Wendy scanned the crowd, but it was as if Jagger had never been there. Poof.  He'd vanished into thin air.
For a long moment, she doubted he'd been real. Only a figment of her imagination, perhaps her eyes playing tricks in the dreamy rose-tinted lighting that reflected off the marble surfaces. But the way her pulse had kicked and her nerves had danced when she'd locked eyes with him had been bona fide and irrefutable.
No other person had ever given her an inkling of butterflies, whereas being with Jagger had been like riding the ultimate roller coaster, the wind rushing over her, arms raised recklessly in the air, her heart doing somersaults, her body tingling. Not a single thought in her head of what was at stake. Of her mother's desperate pleas.
Of her brother's warnings.
Until it had ended.
Her throat closed at the memory of all the tears she had shed over him ten years ago.
Wendy grabbed a glass of champagne from a passing tray, swapping it for her empty flute, and sucked the fizzy alcohol down.
The chilled bubbly eased the terrible tightness in her throat, if not the sudden ache in her chest.
"What's up?" Tripp asked, typing away on his phone and staring at his screen. "You've barely had anything to drink all night, and in the past two minutes you've inhaled two glasses."
"Who are you? A ruthless cutthroat or my father?" Her dad had died when she was sixteen, a year before she met Jagger. She had still been grieving. Her brother, Dutch, had tried to step up, fill their dad's shoes, but she hadn't needed a replacement.
"You can call me daddy later if you want." Tripp chuckled at his own crass joke, and Wendy rolled her eyes as she dug her tense fingers into her satin clutch. "Let's skip dinner and cut out of this snooze fest. What do you say, babe? Your place or mine? I believe it's time to pay the piper since you signed Rothersbury."
Thanks to an introduction from Tripp, Wendy had seized an opportunity to pitch Chase Rothersbury, a bad-boy billionaire in jeopardy of losing his trust fund if he didn't clean up his image fast.
After she'd given a knockout presentation last week, she had landed her biggest client and a lucrative contract that had everyone at the gala buzzing about her.
"You're on the cover of New York because of me," she said, sugar dripping from her voice. "I scratch your back and you scratch mine, remember. Babe." How could he have possibly forgotten?
"Yeah, of course. The cover was fab." Tripp didn't even look at her as he spoke, keying away with his thumbs on Facebook or Twitter. A chirp sounded. Texting someone. "But in terms of equity, come on, there's no comparison. You owe me, right?"
All too familiar with this sport, Wendy suppressed a sigh. For Tripp, everything was a transaction, a deal he had to win. He'd tell his own mother that she owed him.
"I'm not a pink sheet stock. This feels more like arbitrage than equity." She wasn't sure if she'd gotten the terminology right and doubted herself as his eyes took on a narrowed glint.
Then she caught his shrug, a gesture of acquiescence that she attributed to his preoccupation with his phone, and she decided it didn't matter.
Off the proverbial hook, she was back on the hunt. For Jagger.
The last she'd heard he'd gotten involved with Los Chacales cartel in prison.
Which would do wonders for her reputation if old photos of her and Jagger, intimate snapshots that would make her mother screech in horror, found their way into the voracious hands of the press. At least her mom was traveling outside the country with her new husband for the next few weeks, but this was going to be resolved tonight.
What were the odds of Jagger being there? A million to one?
When did he get out of jail?
A better question, the one churning in her mind and making her stomach roil: What in the hell was he doing at a black-tie event for Manhattan's literati and culturati?
Unless he was there deliberately playing a sick game, taunting her with his presence. Had he come to blackmail her, extort her for hush money to keep quiet about their scandalous past?
Wendy's ears were hot, burning, as if they were on fire. As though someone was talking about her, and not in a good way. An old wives' tale, she knew, but still…
Pivoting on her heels, she turned slowly around Astor Hall. She glossed over the elaborate floral arrangements, the designer gowns, inconsequential hobnobbing and every atmospheric inch of the famed institution. Then she tuned out the jazz music and chatter in the air.
There!
Moving stealthy as a thief up the stone steps to the closed second floor was Jagger.
Jaw squared. All that muscular power striding up the stairs, looking like he'd stepped out of the pages of GQ instead of a cell block. God, he looked so damned good.
Hotter than a hostile ex had a right to be.
She flicked a glance at security near the entrance off Fifth Avenue.
The guards were focused on an incensed late arrival who refused a pat down after setting off the metal detector.
Wendy shoved her champagne glass at Tripp. "I'll be back in a minute."
Disregarding his questions, she made her way to the broad staircase on the left.
The musical bell chimed, marking the end of the cocktail hour. The drone of voices in the room grew louder in anticipation of the early dinner. In ten minutes, the next chime would sound, and the well-dressed crowd would head for the grand hall to find their seats at the lavishly decorated banquet tables.
Perfect timing.
Appetizers should keep Tripp occupied long enough for her to have the conversation with Jagger that was a decade overdue. Tell him how much she loathed him. Then she'd send him scurrying back to whatever hole he had crawled out of, before he had a chance to do any serious damage.
No matter what it took.
She'd worked too hard putting the pieces of her heart back together, transforming herself into someone new— better—sacrificing everything to build her company and create a life worth living…without him.
No one, least of all Jagger, was going to bring the whole house of cards crashing down.
She darted under the velvet rope cordoning off the stairs while four guards were distracted with Mr. Upper East Side, who was now causing a scene. She lifted her rented black Cavalli gown to keep from tripping on the hem and tiptoed up the stairs, not wanting the clack of her heels to draw the unwanted gaze of the guards.
At the top of the landing, she caught the subtle sound of a door closing.
Up ahead was a sign for the lavatory. She hurried down the corridor, entered the restroom vestibule and hesitated in front of the men's door.
All the other guests were downstairs, and she'd already seen and touched everything Jagger had to offer. Clenching her jaw, she shoved inside and found an empty two-stall bathroom. No one at the urinals or sinks.
"Jagger?" she muttered under her breath.
Disappointment leaked through her, but outrage was quick to chase it away. She was as acutely attuned to his presence as she had been all those years ago.
He was up here somewhere. It was possible he'd seen her coming and was waiting for her in the ladies'.
She pulled open the door and went back into the vestibule.
Footfalls sounded in the corridor headed in her direction. She peeked out and glimpsed the photographer from Page Six.
The paparazzi never quit. Now he was going to harass her for a quote about the status of her relationship with Tripp.
She ducked into the ladies' room, only to find the small two-stall bathroom just as quiet and vacant as the other. Unease niggled at her, as if she was missing pieces to a puzzle.
Maybe she was losing her mind. The relentless hustle of working sixteen-hour days, the constant stress and never making time for a vacation was obviously taking a toll on her sanity. Instead of being downstairs relishing a once-a-year event, she was running around New York City's flagship public library, looking for a man who wasn't eligible for parole for two more years, seven months and three days.
Not that she was counting.
Trudging to the sink, she wished she'd stayed home, curled on her sofa watching a show on DVR, and hadn't come tonight. But getting tickets from the mayor for helping his daughter avoid a scandal had been an honor that she couldn't refuse.
Wendy checked her makeup and reapplied her lipstick.
The door swung open, and the photographer strode inside.
"Listen, I admire chutzpah," she said, zipping her purse. "I wouldn't be such a success without it, but this is crossing a line. Don't you think?" She swiveled, facing him, and her whole body tensed.
His dark eyes hardened as he kept walking toward her. She had the sudden unnerving sensation that the walls were closing in. Each confident step he took ate up the distance between them, dampening her bravado and ratcheting her pulse to an alarmed high.
She rocked back on her heels, uncertain what was happening.
Then she realized he hadn't asked for a quote, hadn't uttered a word. And he was blocking her path to freedom.
She glanced down at his press pass and read the name Krish Kapoor.
Ice water ran through her veins.
The Krish she knew was bald, stocky and in his fifties. The complete opposite of the twentysomething, wiry guy with a full head of hair stalking toward her, emanating menace.
Don't panic. Stay calm.
Her mind raced as she strategized options.
Simple and direct was best. She had to get back to a public space where a guard or guest could see her, where anyone could hear her if she needed to scream.
Swallowing hard, she straightened. Her mouth tasted sour with fear, and she did her darnedest not to let a flicker of it show on her face. "Excuse me, I'm sure my date is looking for me." She marched forward, brushing past him.
He caught her by the arm, yanking her to a vicious stop that left her teetering on her heels.
"How dare you." On reflex, she pivoted, twisting her arm up and around, breaking his hold. Her next instinct was to shove him out of her way, yell, run—all at once.
But he slapped her with so much force she went spinning and fell.
Her head smacked against the edge of the countertop on the way down and she hit the floor. Hard.
Pain blasted through her skull, radiating to her limbs.
The world tilted. She gasped for air.
Shocked and hurting, she dragged herself along the cold tile floor, trying get away. Even though there was nowhere to go, nowhere to hide. Fingernails scraped against grout as she hauled herself farther.
Shaking, she feared she'd splinter into pieces from the pain.
"Sorry," he said. "I was told to rough you up first. Make it look like you suffered."
First. Suffered.  The words swam in her mushy brain. She couldn't make sense of it.
What was going to happen once he was done making it look like she'd suffered?
Red droplets hit the white tile, streaking as she slithered toward the wall. She was bleeding. From her nose? Her lip? She couldn't tell.
Her attacker closed in with a few short steps. She had to do something, anything. Using all her strength, she kicked his leg. Her sharp heel connected with bone.
The guy swore bitterly. "Now, I'm really going to hurt you."
Inhaling deep, Wendy clawed up the wall, pulling herself upright as much as possible. She turned, shifting her butt onto the floor, and blinked through the agony ricocheting in her head. Her vision started to clear.
She put her back against the solid wall and faced her attacker.
The guy unscrewed the long lens on the camera and dumped a gun suppressor into his palm. He dropped the lens and slammed the body of the camera on the counter. The inside was hollow except for a gun. The pistol was so small it looked like a toy, but Wendy knew it was all too real.
She shook her head in confusion. "Why are you doing this?" she asked, wiping the moisture from her nose with the back of her hand.
Blood smeared her skin.
"Orders."
"Whose orders?" She choked on a sob.
Wendy wasn't in the business of making enemies. Her success depended on smoothing things over, making trouble disappear, keeping people happy. She certainly didn't drive people to murder.
"Don Emilio Vargas."
The name sounded vaguely familiar, from the news. He was the nation's current biggest headline, the leader of Los Chacales cartel, arrested in San Diego. Why would he want her dead? How did he even know who she was?
The man screwed the sound suppressor onto the barrel of the gun.
Paralyzing terror swamped her. No, no, no!  I don't want to die.
So much for work hard now and enjoy the rewards later. She should've taken that vacation to a warm, sunny tropical island, even if she had been alone. The same way she woke up and went to sleep. Alone.
She pushed back the fear and chaos raging in her mind. Forced herself to think.
"I have money. I—I can pay you a lot. Whatever you want." That was far from true, but this circumstance warranted any lie that would work.
"Once the Brethren have been ordered, money can't save you."
Wendy screamed as loud as she could, screamed until her throat burned and her lungs ached. Fearing that no one would hear her over the music and chatter downstairs, she kicked out again, this time striking his knee.
He grunted in pain, but he managed to raise his weapon and aimed.
Her heart clutched.
The door to the bathroom swung open and the guy spun, refocusing the barrel in the opposite direction.
Her attacker blocked her view, but he didn't shoot whoever walked in and let the door close. "Hey, man." The gun lowered. "What are you doing here?"
Oh, God.  Her attacker knew this other man. The cavalry hadn't arrived. Tripp hadn't come looking for her. No one had heard her scream.
Wendy pressed up against the wall, wanting to disappear through it. A desperate whimper left her.
"I was sent as backup." The husky, masculine voice was a shock to her senses, a lightning strike straight to her heart.
A voice that was deeper, coarser than she remembered, but nonetheless familiar. Even in the haze of panic and pain, she'd recognize it.
"You, too? How many of us did the Brethren send to off one chick?"
"By my count, a lot."
Wendy's stomach dropped. Tears leaked from her eyes as the terrible reality struck her, and the pain was too intense to bear.
Jagger wasn't incarcerated.
He was here…and he'd come to kill her.