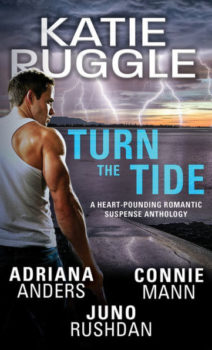 Final Hour #.5
March 5, 2019

Turn the Tide
Whether you're diving into treacherous waters,
racing the clock against global annihilation,
or delving deep into an untamed wilderness,
these thrilling tales of love and suspense will leave you breathless.
No Way Out

Juno Rushdan turns up the pressure in a high-octane, non-stop thriller where one woman's defiance—and her fierce love for the man she could never forget—may be all that's standing in the way of a new bioterror threat.
Also includes:
Beyond home by Connie Mann, Any Means Necessary by Katie Ruggle and Deep Blue by Adriana Anders
Turn the Tide is a pulse-pounding collection of novellas by some of the brightest names in the genre.