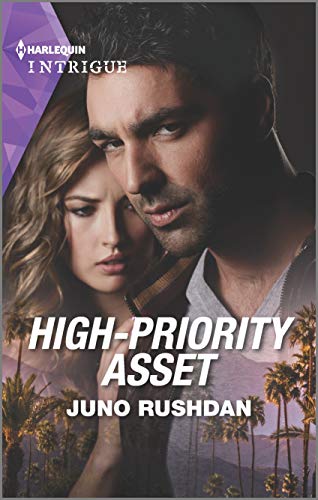 Hard Core Justice #3
October 27, 2020

High-Priority Asset
To safeguard California's Witness Protection Program, recovering leaked information is the top priority.
The safety of every person in California's Witness Protection Program rests in US marshal Dutch Haas's capable hands. So inserting himself into Isabel Vargas's life to get the drop on her criminal uncle is a no-brainer. Except his target is fiery and intelligent—and she quickly becomes his partner instead of his mark. With threats stacking up, will Isabel and Dutch be able to stop Isabel's past from catching up with her before it is too late?
Excerpt
Chapter One
No matter where she went or what she did, Isabel Vargas couldn't escape him.
Some days were better than others, but Thursdays were the worst. The one night of the week she closed her art gallery alone so her best friend and assistant, Brenda, could take a yoga class across town with the hottest instructor in Santa Monica.
The one night she relived the traumatic encounter with her ex. Remembered the bruises, his breath on the back of her neck, his angry hands on her skin. His body holding hers captive. The malevolent rasp of his voice, his vile words pouring into her ears, punctuated by one delusional phrase he kept repeating. I love you.
The doorbell rang. She jumped at the buzzing sound, her heart racing. Drawing in a deep breath, Isabel calmed herself. She powered down her laptop, grabbed her quilted-leather purse and turned off the lights on the upper level of the gallery. Going as slowly as possible, she hoped whoever was at the locked front door would go away.
Please, don't be him. Please.
The doorbell buzzed again, pitching her nerves higher. She rummaged in her handbag and pulled out the tan bottle. Tiny white pills rattled inside. Her therapist had prescribed Ativan after her last incident with him, which had necessitated a restraining order. Isabel refused to think or speak his name. Doing so only gave him power when she needed to reclaim it.
She'd started jogging three miles every other morning, taken up boxing, Krav Maga and city-safety classes for women. She even got a dog. A ferocious Doberman named McQueen that she'd had trained as a guard dog. Keeping him in the office had proven too confined a space and customers got antsy around him in the gallery, so he was at doggie day care on Montana Avenue. From the railing that overlooked the ground floor, she couldn't see who was at the front door. The bell rang in frantic succession. The irritating buzzer reverberated inside her.
Isabel popped the lid, put a pill in her mouth and swallowed it dry. Twice a day, every day. It kept the benzodiazepine in her system and her on an even keel.
She took her time down the stairs, her Jimmy Choos clacking against the dark hardwood of the steps. At the bottom, she saw a man wearing a suit and tie standing out front.
Spotting her, he banged on the glass door. "Hi! I was hoping someone was still here."
She edged closer. "What do you want?"  
"I know you just closed ten minutes ago."
Every Thursday, at seven on the dot, she locked the door and finished wrapping up until she was ready to leave.
"You're usually open until eight," he said, glancing at the sign. "Except Thursdays, apparently. It's my anniversary and my wife has been dying to get that painting, the waterfall by Kush." He pointed to the far-left wall behind her, but she didn't turn and look at it.
Isabel kept her eyes on the man.
He was clean-cut and appeared pleasant enough, but the same had been said about Ted Bundy. The United States had more serial killers than any other country and Isabel knew firsthand what kind of twisted soul could hide behind a dazzling smile and a good suit.
"Sorry." She lifted the flap of her purse and stuck her hand inside, fumbling over her EpiPen and grabbing hold of her pepper spray. "You'll have to come back tomorrow." No one ever died from too much paranoia.
"Oh, please. I'm only ten minutes late. Don't make my wife suffer for my poor planning." He looked exasperated and distraught.
If he was being genuine, Isabel felt for him and his wife, but it wasn't her problem. "No purchases after closing, but tomorrow, I'll give you a ten percent discount." She'd take the money out of her forty percent commission. "I'll even write a note apologizing to your wife on your behalf, telling her it was my fault the gift was a day late."
"If I don't come home with the Kush, she might finally divorce me." His voice grew more insistent. "I'd hate to lose the best woman in the world because I ran ten minutes behind. Please. Can you help me?"
Isabel pulled out her pepper spray with her left hand and pointed it in his direction—a show of force that she meant business despite the door separating them—and took out her cell phone with her right. "Leave. Now. Or I call the cops."
"Whoa, lady." He put up both hands. "I'll buy her jewelry instead." With a scowl, he backed up to the curb, then he ran across the street, hopped in his Lexus and sped off. "Good luck," she muttered under her breath. All the jewelry stores in the area were closed too by now. She dialed the valet at the parking garage she used two blocks down. "Hi, Jim, it's Isabel."
"Ready for your car?" he asked in an always cheery voice.
"Yes."
"It'll be waiting for you by the time you get here."
"Thank you." She hung up.
Smiling, Isabel tossed the mace and phone back in her purse. She turned off the rest of the lights and grabbed the Patrón Añejo tequila from behind the front counter. The bottle was for Jim. He didn't have to go out of his way to accommodate her, sparing her the curbside wait while he went to fetch the vehicle. She showed her appreciation with a bottle of his favorite spirit once a month. It was easier to hand him a fiver when she picked up her car, but the personal touch of getting to know someone
and making them feel special was important.
Her gallery was on the one block within a quarter mile that had a red curb, prohibiting parking, thanks to the fire hydrant and bus stop. She'd kill to have a parking meter out front she could feed all day. Proprietors had authorized spots around the back of the shops, but the rear door was steel, and anyone could be waiting on the other side. Anyone of course being him.
The backside parking was also isolated, away from public view and passersby who might be able to save her life by calling the cops. Lord knew she certainly couldn't depend on any help beyond someone dialing 911.
She peered through the large display window, to the left and right, cursing the angle of the alcove in front.  It was a great spot to hang a backdrop and photograph people as they arrived for special events, but it also limited her view. She scanned across the street.
Nothing. All clear as far as she could tell.
But unease slithered through her, making her shoulder blades hitch together. She had that familiar feeling again that she was being watched. Maybe it was her pervasive paranoia, which had become her new normal. Maybe it was just another Thursday when the memories surfaced, putting her on edge. Or maybe someone was out there, watching her.
Once she got to her car, she'd be all right, she told herself.
After grabbing her keys, Isabel set the alarm, unlocked the door and stepped outside. A creepy-crawly prickle shot down her spine, but she tried to shake it off.
She turned to lock up. First, the bottom latch on the handle and then the dead bolt at the top, but the key wouldn't go in. She summoned her patience with a deep breath that did little to relieve her tension. Trying to tamp down the hopped-up energy zipping along her nerves, she double- checked that she had the right key and tried sliding it in the slot again.
Darn it. For the third time, it wouldn't go in. Was the problem the key or the lock?
Bending over for a closer look, she saw what was wrong.
The keyhole was jammed with something. What the hell?
A shadow lunged up behind her.
The hot burn of alarm flared through her chest. Isabel whirled around, sucking in a fearful breath. A man she'd never seen before had her blocked in. Five-o'clock shadow. Dark, hateful eyes. The hood of his zip-up jacket was pulled over his head.
Steel glinted in the dying sunlight. A cold knife pressed against her throat as panic slammed into her.
He shoved her backward. "Scream and I'll cut you," he said in a low, harsh voice.
Her throat constricted. Her mouth went dry. She shut her eyes against a shattering sense of chaos and the stark threat of violence.
"Give me your weekly bank deposit," he demanded. Brenda made the deposit on Wednesdays. Sometimes Fridays. She found her voice, the words like gravel in her throat. "We never make deposits on Thursdays." Her heart thundered in her ears. She pressed her lips together as if the small gesture would keep the rest of her from
falling apart.
She hadn't learned how to defend against weapons yet in her Krav Maga class. There was nothing she could do with the knife to her throat.
Stay calm. Cooperate.
"Don't lie to me. I want the bank deposit."
Tears stung her eyes. Something brittle inside her cracked. "I'm not lying." Her voice was steady, but she trembled with terror.
"Don't think I won't slit your throat," he said, with the blade still to her jugular.
Her whole life flashed before her eyes along with all the things she'd never done, but that she wanted to live long enough to experience.
What am I supposed do? Think, Isabel.
"Give me your wallet," he snarled.
His caustic words brought everything into sudden clarity. It was the same phrase her Krav Maga instructor used in practice.
She pulled herself together. More or less. Her body tensed. The breath stalled in her lungs. Muscle memory from training firing up, she found her center.
"Take it." She dropped the keys and opened the flap of her purse, coiling in readiness.
As he looked down, going for her wallet, the knife lowered, easing away from her throat.
With a quick, powerful thrust, she struck his face with the heel of her right palm. A distinctive crunch and the flow of blood from his nostrils told her she'd broken his nose.
"Ah!" He cupped his face as a gurgling noise came from him. Furious eyes flashed up at her.
Isabel prepared to throw an elbow strike, to kick and claw.
But then he lunged at her like a rocket.
Oh, God!      
Chapter Two
He swung a backhanded punch to her face.
Absorbing the stinging blow across her cheek, anger came faster than the pain, burning acid in her belly. She struggled to regain her bearings and move into a defensive stance.
With a brutal yank on her purse strap, he snatched her bag from her shoulder and took off running.
Utter shock stilled her for a nanosecond, then white-hot rage consumed her.
That was vintage Chanel! From her father!
Isabel kicked off her heels and bolted after him bare- foot. "Hey!" She sprinted down the sidewalk. "Give it back!" Noticing pedestrians across the road, she said, "He's stealing my bag!" Then she remembered what she'd been told in her self-defense classes. "Fire! Fire!" She kept chasing him, grateful she'd worn the dress with a flowing accordion bottom rather than a restricting pencil skirt. "Call 911!"
The robber picked up speed, nearing the corner, and she worried she'd lose him and the purse that her father had given her before he died.
Digging deep, Isabel pushed harder, ran faster, pumping her arms while still carrying the stupid Patrón. She switched hands with the bottle, moving it from left to right, her high school days of softball springing to mind. Slowing for a beat, she cocked back her arm and lined up her aim. She launched the hefty glass container at him.
The Patrón bottle soared through the air and struck him in the back of the head, throwing off his step. The bottle crashed to the ground, shattering.
Her mugger didn't stop and neither did Isabel. She kept sprinting after him, determined to get back what was hers until fire bit into the sole of her foot. Gasping, she froze and looked down at the smashed bottle. She was standing in the middle of the shards.
Glass had cut her, and the spilled alcohol made the wound sting.
Isabel thought for certain her assailant would get away, flee around the corner and disappear forever.
But a guy darted across the street—tall, broad, muscular—and leaped into action. He threw a powerful tattooed arm up and into the thief's chest, stopping the perpetrator in his tracks.
Her mugger went down in a hard sprawl, dropping the knife. The Good Samaritan grabbed him by the back of his sweatshirt and hauled him up as he flailed. Some- how the mugger slipped out of his hoodie, disentangling himself, and threw her purse like he no longer wanted it.
The thief scrambled away from the bigger man as if terrified, grabbed his knife and bolted across traffic. Horns blared and cars screeched to a halt.
Isabel dragged in a ragged breath. Immediate relief flooded her, and her body released the fear and anger that held her muscles tight. She had never seen anything so heroic except in movies and TV shows.
The do-gooder picked up her purse and jogged down the block to her.
Up close, he was more of everything.
Larger. Taller. Maybe six-three. His light brown hair was cropped close. A dark T-shirt stretched over defined shoulders, sliding down a muscular torso. Jeans hung low on his tapered waist.
He wasn't attractive, not the least bit pretty. He was gorgeous in a rough-and-tumble, almost scary way, but instead of sensing danger from him, his proximity made her mouth water.
"Hey, there." The stranger handed Isabel her irreplaceable purse. "Are you all right?"
Yes. No. Maybe. She settled for nodding and taking a deep breath.
"Care for a little assistance?" He gestured to the glass and her bare feet.
"Uh, yes. Please." She clutched the bag to her chest. "Thank you."
He swept her up from the sidewalk and into his arms like she weighed nothing. But Isabel wasn't a skin-and-bones type of woman. She loved carbs. Jogging only burned off so much and her curvy figure showed it.
"Where to?" he asked. His mesmerizing brown eyes bored into hers, and an entirely new feeling enveloped her.
"The Kismet art gallery down the block."
Tucking her close against his body, he took long strides toward her shop. He smelled powerful and sensual and safe all at once—an arresting mix that had her relaxing in degrees. She wrapped her arm over his shoulder.
"I can't believe that jerk tried to mug you." "Me either."
"You've got a great arm. You threw that bottle like an ace," he said, and she picked up his accent. Not West Coast. Something distinctive. She'd guess Boston, New York or Chicago. "You clocked him good. That'll teach him a lesson."
"Thanks." She smiled and pain bloomed in her cheek. "Ouch." Holding her purse, she pressed the back of her hand to her face.
"Did he hit you?"
"Yeah."
"If I'd known, I would've kicked his butt up and down Santa Monica Boulevard."
To that she wasn't sure what to say. White knights weren't her thing and she never wanted to be treated like a damsel in distress. But she had needed help and appreciated his.
"Better yet, I could've held him for you while you did. The way you were chasing him down, man, that was something. You strike me as a fierce woman who can take care of herself."
Fierce? Nobody had ever described her that way, especially not her overbearing uncle, who was determined to coddle her like a child. She would've smiled at the compliment if it wouldn't have hurt. "I'm just glad you intervened. Thanks, again."
At the door, he set her down gently, and she winced. He bent, grabbed her keys and shoes from the ground and gave them to her.
Isabel unlocked the door and when she opened it, the alarm sounded.
The stranger whisked her inside. "Where's your security panel?"
She pointed to the wall behind the front desk.
He carried her to it and shifted so she could access the keypad. "Go on. I won't look." Turning his head away, he didn't glance back.
A guy with physical prowess and sex appeal and integrity. He was a mythical creature lost in California.
Still, she held her purse at a strategic angle, shielding the keypad while she punched in the code, shutting off the alarm. One could never have too much paranoia.
He set her down in the chair at the front desk. "Do you have a medical kit?"
"Um, I think Brenda, my assistant, keeps one there." She pointed to the bottom drawer closest to him.
He opened it, pulled out the kit and took a knee in front of her.
Serious, intricate ink was tattooed on his arms, adding to his already hard-and-gritty edge.
Not so long ago, men such as him, quintessential bad boys, had been her catnip. It was always exciting and fun in the beginning, and inevitably short-lived and a major disappointment. Every bad boy had been a bad decision, but none had ever made her fear for her life.
The one time she decided to give a corporate guy a try, a respectable businessman, he ended up being her worst nightmare.
The stranger lifted her left leg and glanced at her foot.
Instinctively, Isabel adjusted her skirt, making sure she didn't flash him.
"Have no fear and don't let my appearance fool you. My mom raised me better than to look up any woman's dress. Unless I've been invited to first." His voice was suggestive, his lips twisting in a teasing grin.
Brushing off the sole of her foot, he inspected the skin, using the utmost care and a gentle touch. His tenderness caught her off guard. She wondered what other surprises this man had hidden beneath his devastating exterior.
"What's wrong with your appearance?" she asked. "Nothing. In my humble opinion."
"I bet you're many things, but I doubt humble is one of them."
A laugh slipped past his full lips. The sound was rough and masculine, almost musical. "There are plenty who'd agree with you." His eyes flicked up, meeting hers. "I thought with the fancy gallery, you might draw certain assumptions about my tattoos, my boots."
Her gaze dropped to his worn-in riding boots. He was a biker.
Where was his helmet?
Only fools didn't wear one and there wasn't anything foolish about this man.
"I like the tattoos." She liked the whole package. "You have a certain je ne sais quoi that outshines what you're wearing."
His grin spread.
Stop flirting. She'd sworn off men for a year after messing with…him. Six months to go.
"Or maybe stopping that guy and getting my purse back earned you a free pass in the judgment department," she added.
Another laugh, richer, deeper as their gazes locked.
Warmth spread through her, tickling her ribs.
"Well, losing money and having to cancel your credit cards is always a bummer."
"It wasn't about that. My father gave me this." Memories washed over her as she clutched the bag in her lap. "The last present from him before he died when I was fourteen."
"Sorry. About your dad. Never easy losing a parent. And teenage girls need their dads a lot. My younger sister Wendy turned into a hellion after our dad passed away. Heart attack. I tried to fill in for him where I could, but…" He shrugged.
"My uncle and I are very close, and he tries to do the same. Play dad." She loved her uncle dearly for his efforts and didn't know what she'd do without him. "But it isn't the same."
He nodded; the understanding in his eyes was comforting. "You told me your assistant's name, but not yours."
"Isabel. Vargas."
"Dutch Haas."
"Is Dutch your real name?"
"No." He lowered his eyes for a beat. "It's Horatio." He cocked a brow as if waiting for her to judge.
"Don't worry. I told you that you earned a free pass." With her joke, his features lightened. "Were you named after Horatio Hornblower, or the character from Hamlet, or a relative?"
He waved a finger at her. "Fierce, beautiful and well-read. I think you might be the perfect woman."
Blushing uncontrollably, she hoped her toes didn't turn red.
"The only thing that'd seal the deal is if you enjoy pizza and motorcycle rides," he said.
"I have Pizzarama on speed dial and I've been on the back of one or two bikes."
"Yep," he said, with a smile that'd melt any woman into a puddle of hormones. "Perfect."
Clearing her throat, she broke the eye contact. "You never answered my question. Hornblower, Hamlet or relative?"
Lifting her other leg, he checked her right foot. "Hornblower. My mother was an English teacher."
"Why did she name your sister Wendy?"
"Believe it or not, from Peter Pan. My sister lucked out, right? She should've been named Titania, Desdemona or Goneril."
Isabel laughed. Instantly she regretted it as agony flared in her cheek and she winced.
"You've got some glass in your foot. Once I get it out, we need to put ice on your face." He took a closer look at her sole. "You don't happen to have a pair of tweezers, do you?"
"Other side of the desk in the manicure set."
He moved around the back of her chair and dug out the tweezers from the other drawer. Lowering down on his knee, he looked up at her. "This might hurt a little."
"Not as much as a punch to the face. I'll be okay."
His features pinched in a scowl, one hand tightening into a fist as if he wanted to beat that mugger senseless. "Do you want to call the police and file a report?"
"What's the point? I'm sure that guy is long gone, and I'd rather not waste the time." She'd prefer to get her dog and her car and go home to her condo in Malibu.
"Karma will get that dude. Trust me."
She hoped so, but she didn't want to think about the mugger anymore. "How did you get the nickname Dutch?"
"When I was little, kids in school bullied me and made fun of my name. One day I watched this old movie Predator, and Arnold Schwarzenegger's character was this butt- kicking tough guy named Dutch. I wanted to be like him. After I started working out, bulked up and called myself Dutch, nobody picked on me anymore." Turning his attention back to her foot, he squinted and carefully plucked out a shard of glass with the tweezers.
He had the skill of a surgeon.
"I barely felt that," she said.
"Good. The last thing I want is to cause you pain." Something in his tone rang sincere. He grabbed the antiseptic and cleaned the area. "Will you be able to walk in your shoes?"
"Yes."
"Sure? I can carry you."
Was he for real? "I can handle it." She slipped on her heels and stood. Not letting the soreness that she felt show, she schooled her expression. "Thank you. I appreciate it."
"How about we go across the street? Let me buy you a drink and we can get ice for you."
Holy crap. Her pulse started racing again. Was he asking her out?
Even more surprising, she wanted to go with him. Dutch was mysterious, a contradiction of the best kind. On top of that he'd saved her purse, carried her back to the gallery, tended to her foot and had been charming and vulnerable rather than creepy or aggressive.
But she was done rushing into dates and adding guys to her long list of regrets.
"Thanks, but I don't drink." She loved red wine and missed sipping a fine Brunello, but alcohol didn't mix well with her meds.
"What about dinner?" he asked, his honeyed, husky tone making heat rise in her face. "Or we can just get you some ice and keep chatting."
The offer was more tempting than she dared admit, but she had to learn from her mistakes. If she kept doing the same thing repeatedly, expecting different results, then she was more deranged than he who shalt not be named. "The valet is waiting for me to pick up my car at the garage two blocks down." She hiked her thumb in the opposite direction from which the mugger had run. "And I've got to pick up my dog from day care."
"Okay. Just hang on." He held up both palms. "Give me two minutes. Please." Dutch backed up, darted out of the gallery and dashed across the street.
For such a big guy, he was fast. Agile.
Isabel put away the med kit and reset the alarm. Gathering her courage, she forced herself to lock up again, ignoring the hairs that rose on the back of her neck.
It was a natural response after what had occurred. She'd been through the routine of working past the residual fear of an attack before.
Getting to the dead bolt, she cursed under her breath and made a mental note to call a locksmith in the morning.
She spun around, throwing her keys in her purse and grabbing her pepper spray. Dutch was already pushing through the doors of a restaurant and hustling across the boulevard to her.
"Here you go." He handed her a plastic bag filled with ice. "Put that on your face. You'll thank me tomorrow." His thoughtfulness warmed her from the inside out.
The wall she hadn't realized she'd built around her heart softened, but it didn't crumble.
"Thank you." She took the bag from the sweetest man she'd ever met. "You didn't have do that."
"Can I walk you to your car?"
"No. I…I…" She didn't know how to explain it. "I have to go on my own." The way she would any other day. No crutches, metaphorically speaking.
"All right. But you've got no objections to me standing here and watching you walk two blocks, do you?"
Why did he have to be so irresistible? "No objections.
Thanks again. For everything."            
"How about we continue this conversation tomorrow over lunch? Or on your day off?"
She felt a flutter in her stomach and she shoved it away, replacing it with common sense. He was a hard man to refuse. A chivalrous bad boy. Or was that an oxymoron?
Maybe she was the moron for even considering it.
Six months. Then she'd take it super slow, with someone.
"Good night." Isabel tightened her grip on the pep- per spray, put the ice to her cheek and walked away at a fast clip.
Dutch was a beautiful risk, but too dangerous to take with her track record.
Chapter Three
"Is she all right?" he asked the private investigator he'd hired to watch Isabel when he was at work and unable to keep a close eye on her himself.
"Yes. I think so," Olga Olsen said, no doubt from her perch in the coffee shop that sat diagonal to the gallery, where Brenda picked up Isabel's morning latte—coconut milk, double shot of espresso, a sprinkle of cinnamon. "I wasn't sure if I should've interceded since you gave explicit instructions never to engage with her, but then that guy came out of nowhere and helped her."
"What are they doing inside the gallery? Is she flirting with him?" He clenched his jaw, his temperature rising. Isabel could be such a horny minx. Batting those long dark lashes, flipping her thick, curly hair over her shoulder, throwing more sway in her walk than necessary,
drawing male attention like moths to a flame.
Gritting his teeth, he couldn't wait to climb on top of her again and lose himself in her.
"It looked like she hurt her foot and he put a bandage on it or something," Olga said. "She's walking to her car now."
"Alone?" His chest tightened and he squeezed the cell phone in his hand, imagining that man carrying her to the art gallery, fawning over her. Disgust soured his stomach.
Isabel was the most beautiful creature he'd ever seen.
And she was his.
No one could touch his property. Not a mugger and especially not riffraff who wasn't fit to lick her shoes, even if he had intervened on her behalf.
"Yes." The background noise on Olga's end changed as if she had moved outside. "She's alone."
He released a breath of relief.
It had better stay that way.
Good girl, Isabel, for not letting him escort you to your car. Such foolishness would demand punishment.
Remind her who she belonged to.
So far, he'd played along with the restraining order, the long tease. As if a slip of paper would keep him away from her. Every woman loved the chase, but none more than Isabel.
Deep down she knew that he'd never stop pursuing her. This game was fun, foreplay, building the anticipation until they were reunited. She needed time to miss him, appreciate him, to realize no one could ever love her the way he did. When she came crawling back home to him things would be different, better than they'd been in the beginning. Only he was good enough for her, understood her standards, how to take care of her, what she really needed. "But the man is still in front of the gallery, watching her head to the valet," Olga said.
"Stay on Isabel. If that man comes sniffing around her again, call me immediately." He'd handle it personally.
After he hung up, he checked the lunar calendar app on his phone and smiled, satisfaction seeping through him. In the meantime, he'd pay Isabel a visit later tonight.